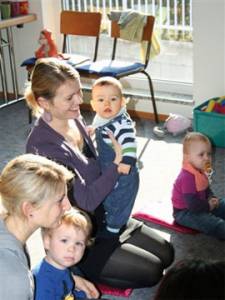 We meet up every Wednesday during the school year from 09:00 to 11:00 at Reichenbergerstraße 8.
We kick-off with singing together followed by a chance for the children to play while the parents can have a chat and a coffee. Sometimes we also have a story or there is some art and craft to try your hand at.
Please contact Caroline on +43 (0) 680 2471687 for further details. Come and join the fun!
Weitere Angebote in der FEG
Teenager & Youthgroups

Teenager & Youthgroups

Parents-children club

Parents-children club

Support & Counseling

Support & Counseling

Farsi Bible study

Farsi Bible study

Women's Biblestudy

Women's Biblestudy